Daytime Dating
Love Systems is coming out with a new book "Daytime Dating". I will be purchasing it and reviewing it here. In the meantime if you can't wait  get a copy of DayTime Dating here.
It is suppose to be about how to approach women on the street in the daytime etc. I don't hold much hope for it, for the guys at Love  Systems are all a bunch of 10% ers (They don't know how to get 80-90% closes) so they continually come up with strategies that will work, but usually just 10% of the time (hence 10% ers)
Stay tuned for the review.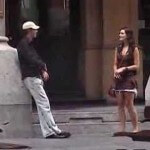 —————————–
Review Of Daytime Dating
9/1/10
Ok, I finished Daytime Dating.  Pretty much as I expected from the "Love System" crew. First of all, it is a workable system. Let's say that. Everything that the Nick Savoy, Mystery, Neil Strauss (not part of Love Systems) gang puts out is workable. But it is only a 10% workable system.
Nobody in this whole crew has ever figured out that women have different personalities and different personalities require different approaches.   This book is about the guy and his approach. It treats all women as if they are the same. And if there is ever an acknowledgment in this book that women have different personalities, it is more a defeatist acknowledgment. Sort of like "Oh well,if she is like that, can't win them all."
If you really want to know how to do daytime dating with a high chance of success and a real chance at developing a relationship later, then I recommend Mr. L. Rx and "Dating To Relating – From A to Z." "Dating To Relating" has chapters that cover virtually the same thing, but from the viewpoint that you have to do different things when you encounter different women. (On that note I will be reviewing another advocate of the fact that women have different personalities shortly – this would be Vin DiCarlo and Pandora's Box. )
But back to "Daytime Dating". There is a definite system here. It is just that it is a "10 percent" system. They only have one approach (as if all women are the same and should be approached the same) and it will only work on about 10% of women. Now that is good for guys who have no game at all, but with Mr. L. Rx's system I have been able to score about 75-80% of my targets in any situation – day or night.
Here, for example is  Jeremy's daytime approach: "Get her attention politely, explain how you came to notice her and pay her a small, but genuine physical compliment." He talks about "indirect approaches" but lays the choice off on whether you feel comfortable with direct or indirect approaches rather than which approach works for which personality.
His system is of course built on the "Love System's Triad" and he makes some distinction between day and night approaches and why they are different (situational variables) but he just doesn't seem to get that women have different personalities and to have a real successful technique you have to approach different women differently.
So the book cost me $79 on "sale (regular price is to go up to $97) so from that viewpoint it cost exactly twice as much as "Dating To Relating – From A To Z" cost me and gave me approximately 1/100 the usable data. And even if we focus on "Daytime Dating" it gave me a daytime dating strategy that will get me 1/10 the women that the "Dating To Relating" system gets me.
So do I recommend it? No. I think it is pretty much a waste of money for the price. You would do much better buying both "Dating To Relating" and "Double Your Dating" and you get can both books cheaper than just Jeremy's (about $40 cheaper).
Does it have any value buying Daytime Dating it in conjunction with"Dating To Relating" and "Double Your Dating"?
No, not really. It has 164 pages single spaced so it is not a Tiffany Taylor fluff-job, rip-off, but it just doesn't have anything of real value you can't get elsewhere cheaper.
So  my advice is to stick with "Dating To Relating – From A To Z." if you really want to learn daytime dating.

DISCLOSURE:
In case you are wondering. I get paid affiliate commissions if you buy books from links on my site, now of course I appreciate if you would use my links, but here is the disclosure:
Pandora's Box Core System (Vin DiCarlo) pays me ~ $45,
Double Your Dating (Deangelo) pays me ~ $40,
Guy Gets Girl (Taylor) pays me ~ $40,
Routines Manual 2 (Love Systems) pays me ~ $30
Dating To Relating From A to Z (Mr. L. Rx) pays me ~ $20;
Neil Strauss and Ross Jeffries pay me nothing.
As you can see my reviews do not correlate with how much I get paid. Keep these affiliate commissions in mine when you read other reviews, as some reviews are not made to honestly inform you, but only to maximize profits.